Detail
Article 19.15(4) and (5) - Platform, accessible from each side of the vessel, directly above the line of flotation or comparable installation
Question:

What "comparable installations" under Article 19.15(4) and (5) have been accepted to date?

Answer:

The rescue platform is a substitute for the use of a dinghy. In terms of saving people, the installation must satisfy the same prerequisites, i.e. catching hold of, securing and rescuing persons floating in the water (possibly including unconscious individuals). That being so, installations that require cooperation on the part of the person being rescued cannot be deemed appropriate installations.

Rescue systems satisfying these requirements (for example: Jason's cradle) can be accepted as comparable installations if they are correctly installed.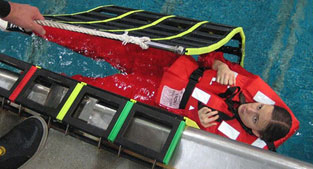 CESNI/PT (18)m 41 final
CESNI working group technical requirements CESNI/PT, comparable installations, rescue platform